From his days performing in churches over 25 years ago, Brandon Dawson has matured into a musician, singer, and songwriter of depth and clarity. Brian Baker of Cincinnati's CityBeat magazine likened Brandon's style to "Bruce Cockburn covering Jeff Buckley at Over the Rhine's Sunday picnic." We'll take that.
Focusing on strong lyrics and powerful, falsetto-tinged vocals, Brandon has honed a style reminiscent of his influences, steeped in American songwriting, but always striving for something new…some unique way to get at the questions of our lives. Whether solo or with friends Mike Helm and Tony Moore in his new project, The Hertz Brothers, Brandon's music has the same focus as everything he does: meaning, communication, people, and soul. Scroll down for a tour of Brandon's recent projects, and visit the Brandon Dawson Facebook page for more.
Projects:
2013 – The Hertz Brothers – "Everybody Hertz"
Brandon has been playing music with Mike Helm and Tony Moore almost since he moved to Cincinnati in 2005. When Mike announced in late 2012 that he'd be moving to Chang Mai, Thailand, for at least a year, that was all the impetus the trio needed to get busy again. After some extended writing and recording sessions through early 2013, and a couple of well received performances at the Leo Coffeehouse and 2013 Edensong Festival, the newly minted "Hertz Brothers" set up in Mike's living room and recorded 12 songs in 2 days. These are whole performances, no edits, no digital trickery, warts and all. The collection includes four original tunes (3 by Helm and 1, "Navajo Lands," by Dawson), and covers of beloved tunes by Sam Phillips, The Wood Brothers, Bruce Cockburn, and ELO, among others.  And best of all… It's free.
To download "Everybody Hertz" for free, visit The Hertz Brothers Facebook Page.
2008 – Brandon Dawson – "Becoming Human"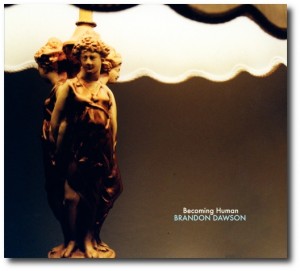 In May of 2008 Brandon gathered with a group of friends in Cincinnati, and recorded 9 songs in two days. He then holed up for a couple weeks in a loaned studio in the back of a crumbling cathedral, added additional vocals and instruments, mixed and mastered it all, and released "Becoming Human" during the first week of June.  Brian Baker from Cincinnati CityBeat called it "Bruce Cockburn covers Jeff Buckley at Over the Rhine's Sunday picnic."  We'll take that.
To hear more, visit Brandon Dawson's Facebook Artist Page, or go directly to the Brandon Dawson Store to buy or download your own copy.

1999 – Brandon Dawson – "Listen"
Recorded in the summer of 1999 with a group of close friends, "Listen" is Brandon's debut release. The 4-song EP was produced and engineered by drummer Scott Pergande (one of his first projects as well) and received strong reviews upon its initial release in and around Boise, Idaho. The song "American Dream" received airplay on KFXJ-FM, and although it seems like forever ago, it reached #3 on the national mp3.com alternative chart.
Visit the Brandon Dawson Store to buy or download your own copy.

Other projects:
Liz Bowater – "Since I Left Home" – 2012
– Acoustic guitar,  vocals
Kim Nixon – "Somebody To Love" – 2009
– Producer/Engineer
– Acoustic & Slide guitar
Eric Falstrom – "Love Will Come Through" – 2008
– Executive Producer
Beth Wacome Keck – "Amazed" – 2000
– Producer/Engineer
– Guitar, Vocals
Vineyard Music – #41 "Offering Of Love" – 2000
– Songwriter – "King"
Vineyard Music – #35 "I Love Your Ways" – 1998
– Songwriter – "I Love Your Ways"